Outstanding Work
for the Environment
Certificates are proof of our progress
National and international certificates verify the quality of a company's processes and products. Our goal is to earn and retain them. We see each certificate as clear evidence of the long-term sustainability commitment of employees and the company's management.
From the audits required for certification, we learn how we can further optimize our operations. Every certificate brings us new incentive and serves as a motivational milestone in our continuous improvement process.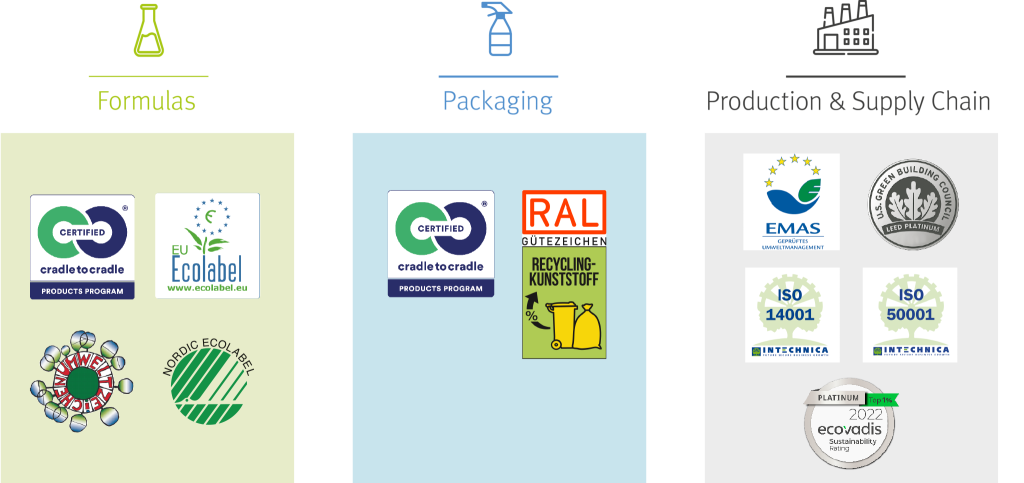 Cradle to Cradle®
We develop all our products according to the Cradle to Cradle® principle. It replaces the linear production principle of Cradle to Grave in which materials are often wasted, with no conscious consideration given to the long-term conservation of natural resources. In contrast, our products are designed for a closed biological or technical material cycle. Then product materials can be returned safely and completely to the biosphere or can be recovered for high-quality reuse.
EU Ecolabel
The European Eco–label (environmental daisy logo) is the driving force behind environmentally friendly formulas in cleaning products. The daisy logo was created in the mid-1990s to serve as a European environmental symbol. The Ecolabel, which incorporates all national environmental symbols, specifies the stringent requirements for environmentally friendly products. Many of our cleaners for the European market are made with Ecolabel certified formulas.
Nordic Swan
The Nordic Swan is the Nordic ecolabel. It certifies products, including chemical cleaners, for their environmental compatibility. Green Care Professional products that bear the Nordic ecolabel comply with its strict eco-toxicological requirements. The Nordic Swan was intended originally for use in Scandinavia, but is now found on products marketed outside the Nordic region. The Nordic Swan is awarded in some categories in which the EU ecolabel is not granted for chemical cleaning products, e.g., dishwasher detergents.
Österreichisches Umweltzeichen
Since 1990 the Österreichisches Umweltzeichen has conducted strict examinations and has certified products and services that comply with its demanding standards for quality, environmental and health protection. The ecolabel issued by the federal government guarantees formulas free of hazardous substances and product design that's durable, suitable for intended use and compliant with standards. As a quality seal for the ecological economy, it identifies products from manufacturers like Werner & Mertz that have committed to producing environmentally friendly products.
RAL Gütezeichen
Based on an audit report submitted to its Quality Committee, "Gütegemeinschaft Rezyklate aus haushaltsnahen Wertstoffsammlungen e. V." this certification serves as proof of our high recyclate content in different types of packaging, from spray bottles to canisters.
EMAS
Since 2003 Tana-Chemie GmbH at its Mainz site and since 2005 Werner & Mertz Professional Vertriebs GmbH in Hallein, Austria, have voluntarily had their environmental management system validated against EMAS criteria. The EMAS validation stands as proof of our exemplary ecological orientation and our integrally sustainable corporate philosophy. Every year an independent auditor examines our sites' fulfillment of requirements from the EMAS regulations. EMAS, the Eco-Management and Audit Scheme of the European Union, is recognized as the world's most demanding system for sustainable environmental management. Both successes and areas requiring further action are communicated transparently.
DIN ISO 14001
Tana-Chemie in Mainz and Werner & Mertz Professional Vertriebs GmbH in Hallein have been ISO 14001 certified for many years. ISO 14001 is the globally accepted and applied standard for environmental management systems. By satisfying the requirements of the international norm, our Environmental Management System ensures that we improve our environmental performance, fulfill legal obligations and achieve our environmental goals. Compliance with standard requirements is examined annually by an independent auditor.
DIN ISO 50001
Tana-Chemie GmbH in Mainz and Werner & Mertz Professional Vertriebs GmbH in Hallein have been ISO 50001 certified for several years. The ISO 50001 is the globally accepted and applied standard for energy management systems. The international norm stipulates the requirements for our Energy Management system with which we increase our energy efficiency and continuously improve our energy performance. Every year an independent auditor examines our compliance with the standard requirements.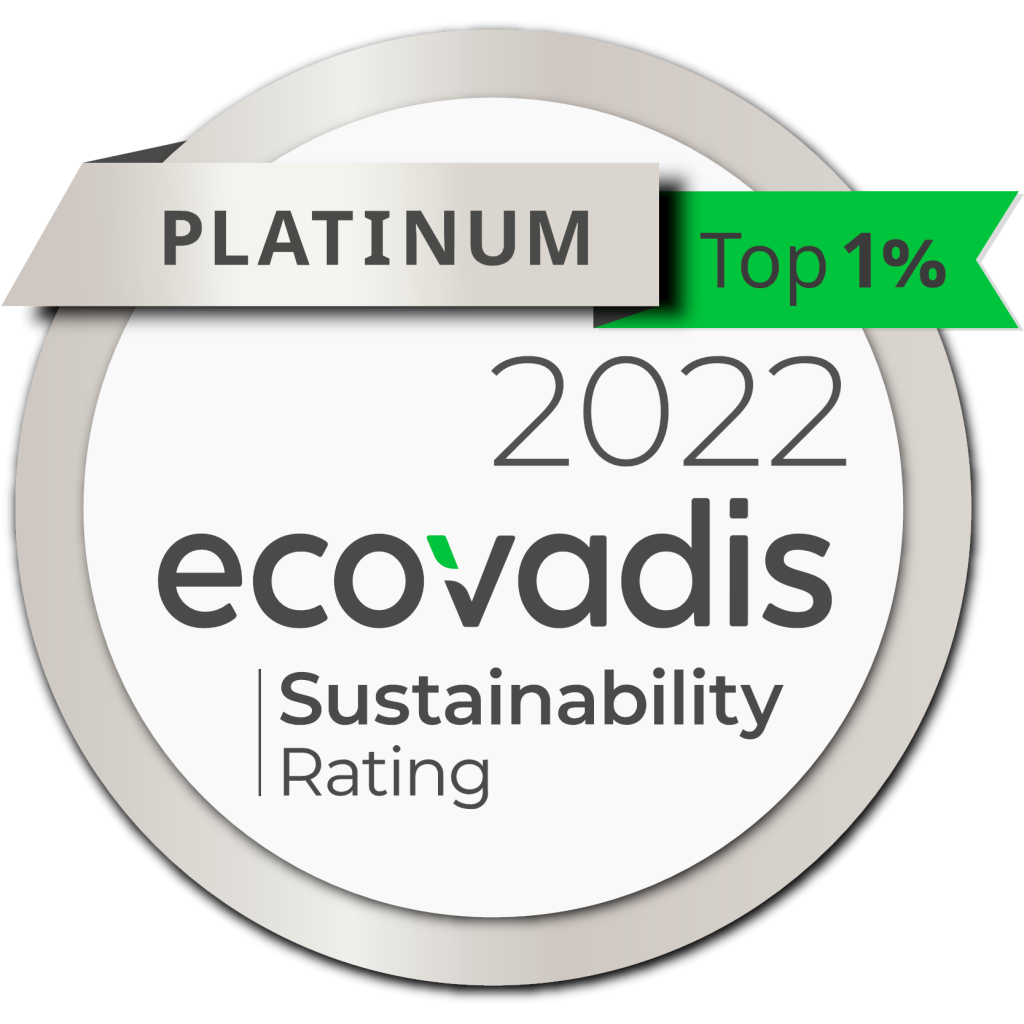 EcoVadis Platinum
In June 2021 Tana-Chemie GmbH received a Platinum medal for sustainable business from the renowned CSR/Sustainability rating agency EcoVadis. That designation places Tana-Chemie among the most sustainable companies in the world because the best score is awarded in only one percent of all cases. Since 2007 EcoVadis has assessed companies' environmental and social practices. The ratings are made in four assessment classes of Bronze, Silver, Gold and Platinum. More than 75,000 companies in 200 industries around the world engage EcoVadis to assess their value chains objectively. EcoVadis gave us positive assessments for the use of recyclable packaging, the utilization of renewable energy and the reduction in water consumption by means of innovative methods, including re-use of water from operational processes.
LEED
For our headquarters building in Rheinallee in Mainz, we received in 2012 LEED Platinum, the most demanding certification for sustainable construction. The new building was Germany's first industrial headquarters placed in this top award class. LEED stands for Leadership in Environmental & Energy Design, a classification system for top ecological buildings.
The green energy concept is particularly impressive. By means of wind turbines, photovoltaic panels and geothermal groundwater use, the building generates 20 percent more energy than it needs for normal operation.
DIN ISO 9001
Tana-Chemie GmbH in Mainz and Werner & Mertz Professional Vertriebs GmbH in Hallein have been ISO 9001 certified for many years. The globally recognized and applied standard ISO 9001 specifies the requirements for a quality management system. By fulfilling this norm, our Quality Management system meets our customer expectations, monitors and continuously improves structures, workflows and quality-relevant processes. Our compliance with standard requirements is examined annually by an independent auditor.