May 24, 2023
Sustainable Hygiene: The key to successful hotel cleaning
The hotel industry is recovering from the pandemic and is enjoying rising bookings. But the guests bring higher expectations with them: They want to travel more sustainably – and this does not only apply to the younger generation of guests. And that's a good thing. We show how housekeeping can solve the current challenges of sustainability, hygiene, well-being, cost-effectiveness and a shortage of skilled workers.

8 tips for sustainable hotels

With a holistically sustainable hygiene concept, hotel and gastronomy experts can not only work more sustainably, but also combine the high demands of guests in terms of hygiene, well-being and sustainability. We show here how cleaning can be made simple and more sustainable and what advantages this brings.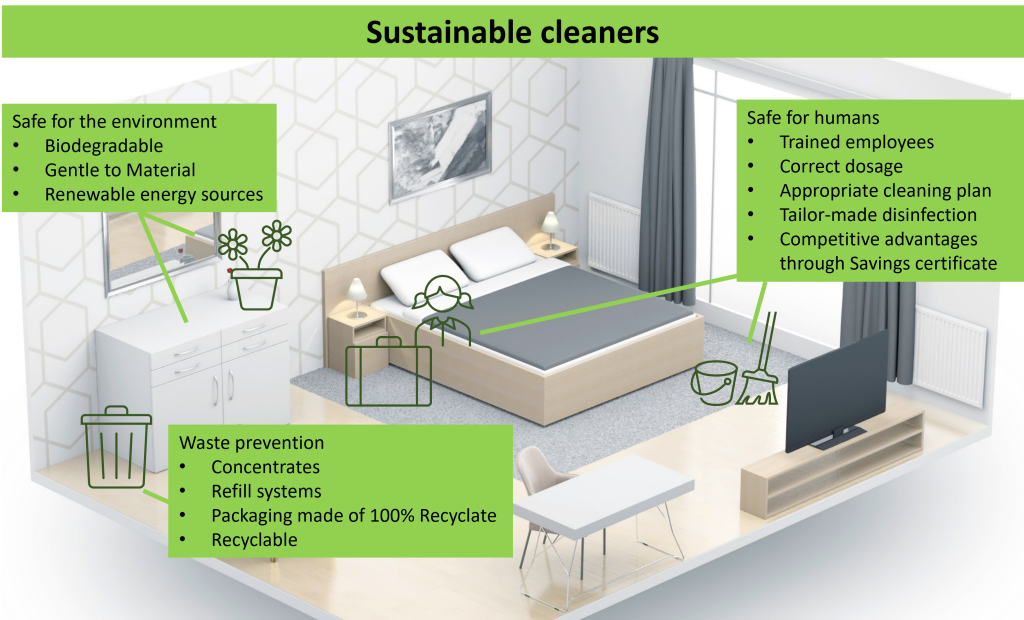 Infographic: What is important when it comes to sustainable cleaning products for hotel rooms – without compromising cleanliness and hygiene. © Green Care Professional

1. Sustainable cleaning products

In the entire hotel sector, the cleaning result has the highest priority and does not allow any compromises. The modern designed, sustainable cleaning agents of Green Care Professional can do even more.
Based on the principle of the circular economy, Green Care is developed in such a way that the
materials used are safe for people and nature. The ingredients can be returned to the biological cycle, i.e. to nature. The same applies to the packaging: The materials are made of recycled material and can be recycled again and returned to the next product cycle. In this way, no new waste is created, the circle is closed.
Picture: Consistent circular economy: Both cleaning chemicals and packaging remain in closed systems. © Green Care Professional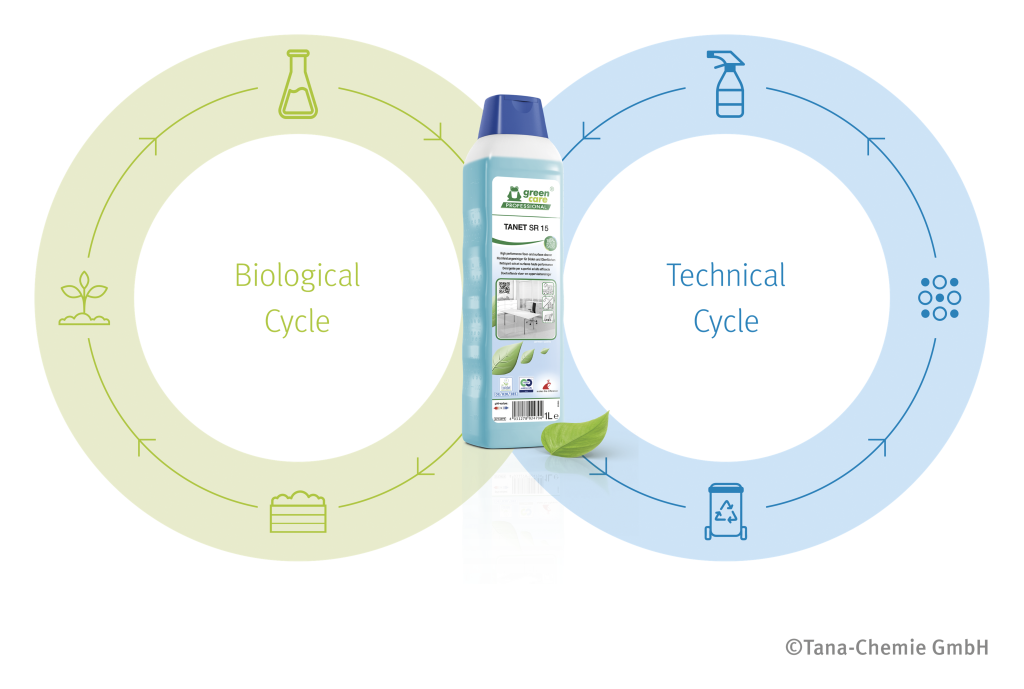 Pay attention to following criteria for sustainable cleaning products
Biodegradable
Ingredients from plant-based and regional sources wherever possible
No microplastics
Free from allergens and critical components
Recycled and recyclable packaging
Production is also optimized in a sustainable way: water treatment and renewable instead of fossil energy sources
Info box: Criteria for sustainable cleaning products. © Green Care Professional
The plus for the guest: Sustainable cleaning agents contribute to the well-being of guests who suffer from allergies.
The use of products without fragrances and dyes helps to improve the indoor air and avoid possible headaches or discomfort. The cleaning quality is not affected, because fragrances and dyes have no cleaning effect. 
If one pays attention to dermatologically tested products when selecting detergents, the hotel and work laundry is more skin-friendly.
2. Recycling and waste prevention in the hotel
Waste is not just about jam. How hotel businesses should handle their waste is regulated by law. But the simple guiding principle of "Reduce, Reuse, Recycle" can easily reduce costly storage and packaging waste disposal:
Reduce:
Producing as little packaging waste as possible is easier on the environment and also on your wallet. Concentrates can be diluted with water on site. Especially concentrates in bag-in-box systems are the ideal solution to reduce plastic volume, waste and transport emissions are saved.
Reuse:
Producing as little packaging waste as possible is easier on the environment and also on your wallet. Concentrates can be diluted with water on site. Especially concentrates in bag-in-box systems are the ideal solution to reduce plastic volume, waste and transport emissions are saved.
Reuse:
Look for packaging with a refill concept: Voluminous packaging can be reused with refill packs, which are often offered with much smaller outer packaging.
Recycle:
Just as in the household sector, waste in hotels is separated and collected for recycling. In order for packaging to be recycled through the collection system, care should be taken when selecting cleaning products to ensure that their packaging is recyclable. Sustainable packaging is made of 100% recycled material and can also be recycled again.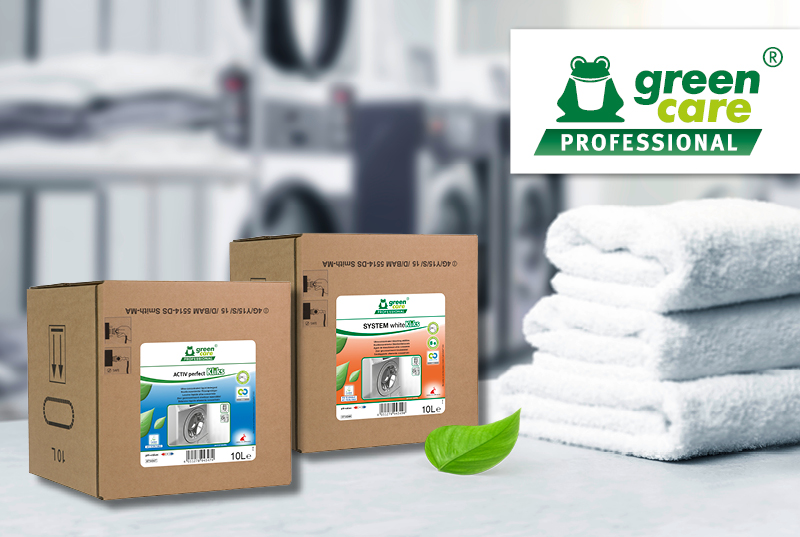 Safety with one Klik: The Kliks Laundry systems offers less and recyclable packaging without contact with chemicals. © Green Care Professional
Criteria for sustainable packaging
Separable components (such as lid or bottle)
Transparent or light colored materials
Detachable labels
Packaging made of only one material (e.g. refill bags made of mono-material)
Info box: Sustainable manufacturers design their packaging according to criteria that make high-quality recycling possible © Green Care Professional accord. https://initiative-frosch.de/plastik-im-wertstoffkreislauf-halten/
3. Do not forget any aras
A sustainable hygiene concept leaves no area untouched: whether kitchen, laundry, dining room or room, thinking holistically pays off. For each area there are different ways to act in the interests of guests and the environment.
Wast towels and bed linen less after consultation with the guest
Wash with sustainable washing systems and detergents
Also consider mops, wipes, tablecloths and workwear
Prevent overdosing: Dosing systems help ensure correct dosing and ensure consistent quality of cleaning results
Dermatologically tested powder and liquid detergents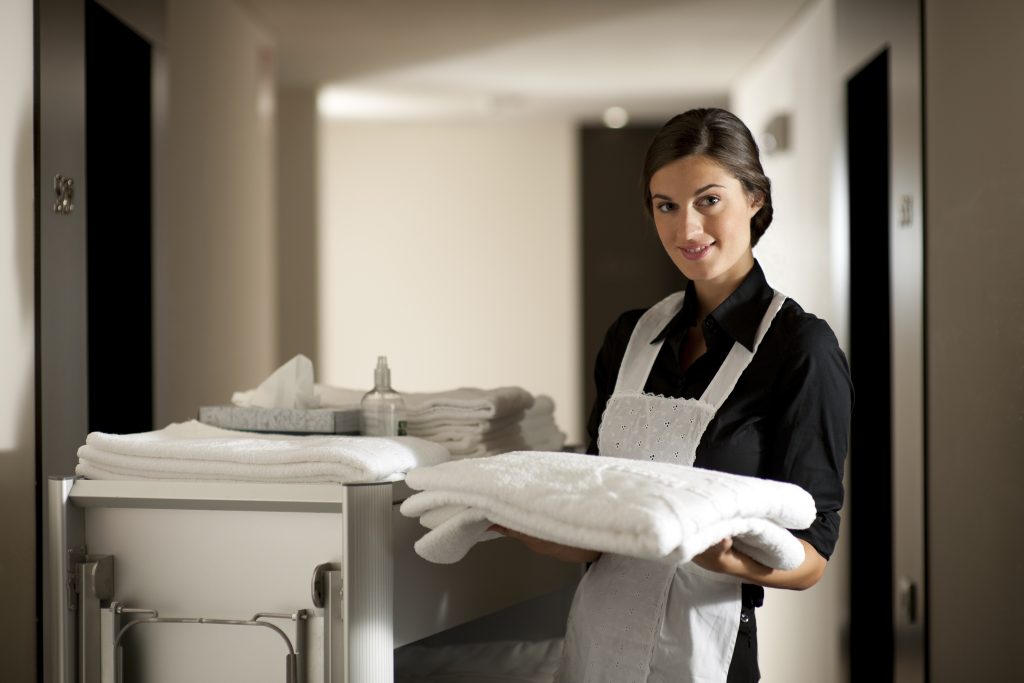 Green Care Professional offers comprehensive systems for sustainable laundry hygiene.
4. Communicate environmental protection
Sustainability is becoming increasingly important in all areas of life, including the selection of restaurants, hotels and leisure activities. An openly communicated sustainability strategy brings competitive advantages. Transparent and credible communication with the guest is important. This is how to score points in the ratings and filter criteria for sustainable hotels, which increasingly ask about environmental friendliness (e.g., hotels.com, expedia.com).
Eco-labels certify compliance with sustainable solutions for washing and cleaning in the hotel industry. The partnership with the globally recognized Green Key seal is a guarantee for strict sustainability management and sustainability training for staff and suppliers.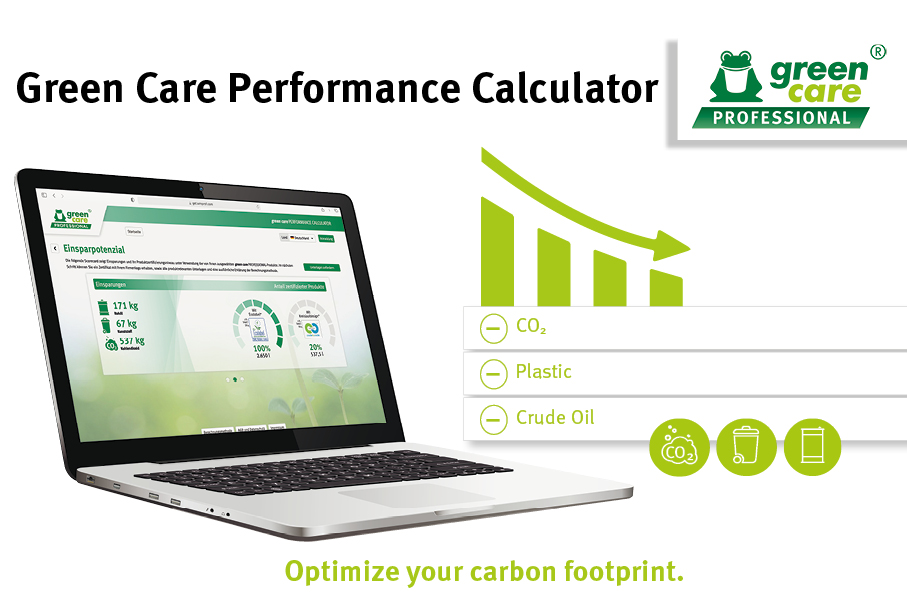 Sustainable cleaning with presentable results: in savings, hygiene and certificate (get.wmprof.com). © Green Care Professional
5. Inspire your staff
Confident employees are the hallmark of the hotel and are in direct contact with the guest..
In times of a shortage of skilled workers, it is also important for employers to be sustainable for their staff. Thanks to harmless ingredients and well thought-out application concepts, Green Care products are safe for housekeeping. Training measures also make an employer more attractive. Training courses on the subject of cleaning, sustainability and employee safety offer many opportunities for this, e.g. in the form of e-learning offers (green-care-academy.com).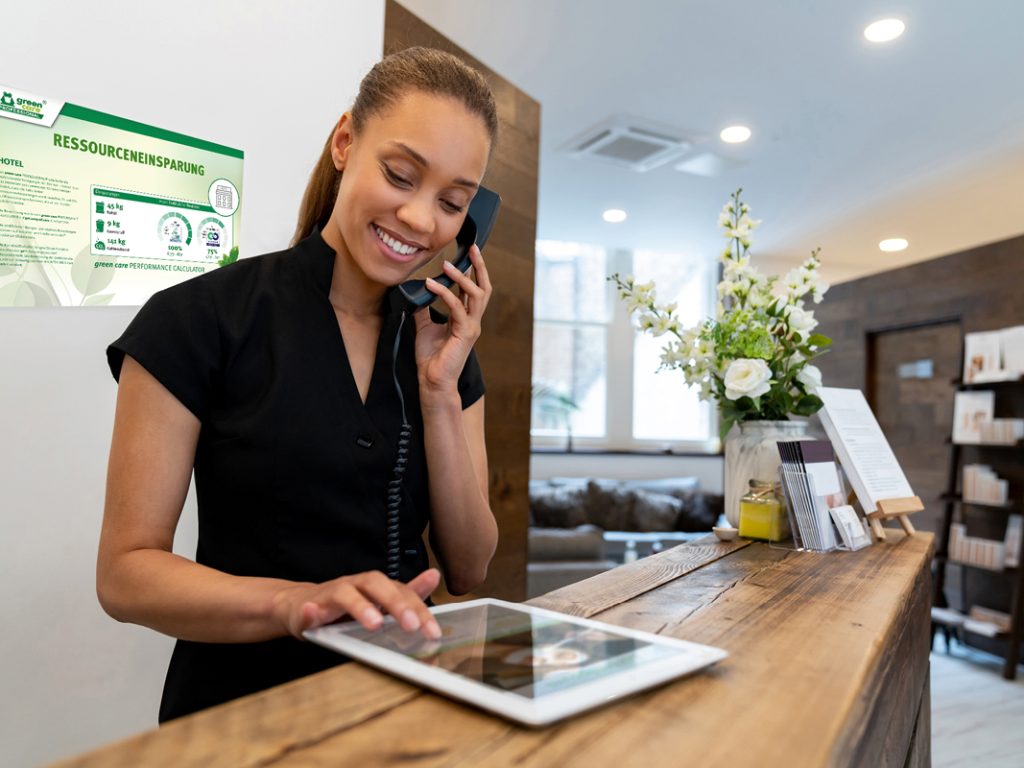 Make sustainability credible with convinced employess and a sustainability certificate. © Green Care Professional
6. Minimalism makes cleaning easier
Minimalist furnishings for a clean look are currently in vogue. The advantages are impressive: fewer decorative elements that are used in a targeted manner give the guest more peace and appear tidier. Easy-to-clean materials that can be wiped clean reduce cleaning time. This saves time-consuming additional cleaning. Time and costs in daily cleaning are reduced.
7. Correct cleaning frequency and value preservation
Thoughful maintenance cleaning saves housekeeping from time-consuming and costly basic or special cleaning that may require stronger chemicals.
A customized cleaning and hygiene plan for each hotel area specifies which surfaces are cleaned and maintained at which intervals with which agent in the appropriate dosage. The advantages:
Correct dosing and use of the right products prevent material damage. Fewer resources are needed for renovations – and refurbishments.
Surfaces are protected, cared for and last longer.
Regular cleaning and care contributes to the hygienic well-being of guests and is visually appealing.
8. Customized disinfection
The pandemic has shown: Disinfection is important just in case. However, a normal cleaning agent is often sufficient. Fitness equipment, for example, can also be cleaned with a normal all-purpose cleaner. This is gentle on the material. It is important to use the right cleaner or disinfectant at the right frequency for the purpose and material..
With a reliable partner, many of these tips can be implemented quickly and easily. Pay attention to transparent communication and well-known certificates for the products as well as the company. Ask critical questions to identify greenwashing. For more info, visit: green-care-professional.com. With a few small changes, you can pave the way for more sustainability in your hotel and restaurant and inspire your guests!