27 septembris, 2022
Green and Clean: Sustainable washing powders by Green Care Professional
In in-house laundries with only few wash cycles per day, the question arises as to whether washing powders can meet laundry hygiene requirements. Can this be done without sacrificing optimized energy, water and chemical efficiency? Is the use of washing powders with manual dosing sustainable?
The answer is provided by Tana-Chemie's Green Care Professional brand washing powder range. Sustainable solutions for all types of soiling and textiles guarantee outstanding washing results. And with the freshly revised formulations for even more sustainability! The concentrated powders are characterized by high performance, which not only saves transport energy. The reduced dosage also minimizes costs per wash load. The smaller packaging is user-friendly and saves storage capacity. A key part of the revision is, of course, the biodegradable ingredients and EU Ecolabel certification. The formulations are free of microplastics and complexing agents such as EDTA, NDA, phosphates and chlorine-containing compounds.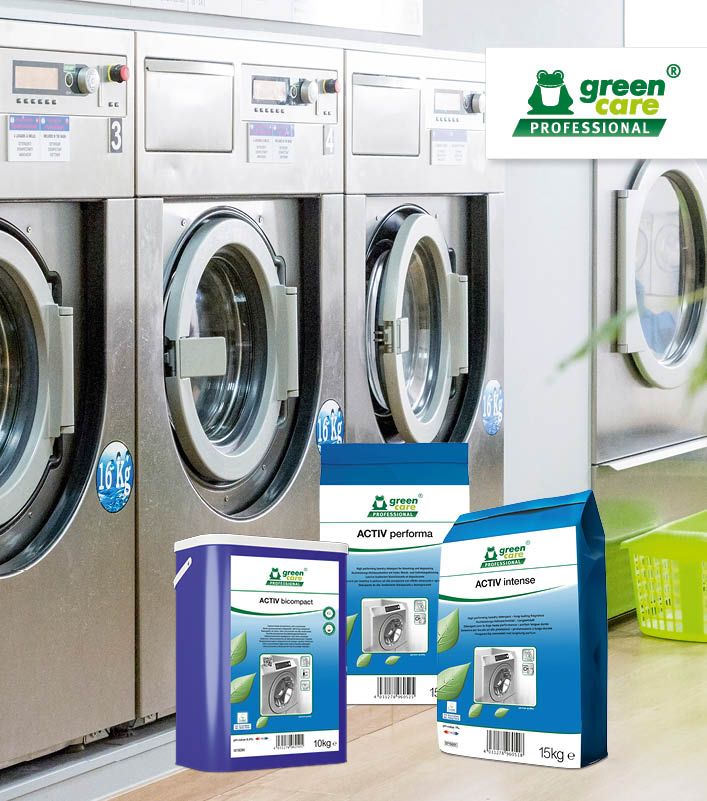 Less Powder. More Performance. Complete green.
ACTIV intense: High performing laundry detergent with long-lasting fragrance, perfectly suitable for old people's and nursing homes
ACTIV performa: High performing laundry detergent for bleaching and degreasing, perfectly suitable for use in hotels, restaurants and cafés
ACTIV bicompact, Ultra concentrated laundry detergent for short washing cycles and particularly energy-saving, can be used from 20°C