Mainz cleaning products company advocates tax on plastic
Politicians meet medium-sized company: Steffi Lemke, Federal Minister for the Environment, Nature Conservation, Nuclear Safety and Consumer Protection, and Katrin Eder, Rhineland-Palatinate Minister for Climate Protection, Environment, Energy and Mobility, made a joint visit to the headquarters of Werner & Mertz in Mainz on 18 July. Reinhard Schneider, owner of the manufacturing company of ecological detergents and cleaning products, presented a status report on the Recyclate Initiative. In 2012 Schneider founded the initiative in which cooperative partners along the value chain actively pursue and promote high-quality mechanical recycling of used plastic from household waste collections like the Yellow Bag.
To date, more than 740 million bottles of 100 percent post-consumer recyclate have been manufactured in Mainz and filled with Frosch and Green Care Professional brand products. The initiative's most recent success is the new spray head whose mechanical components are made from recyclate. The refill pouch of a monomaterial also makes an important contribution to cutting down on packaging and to promoting high-quality mechanical recycling.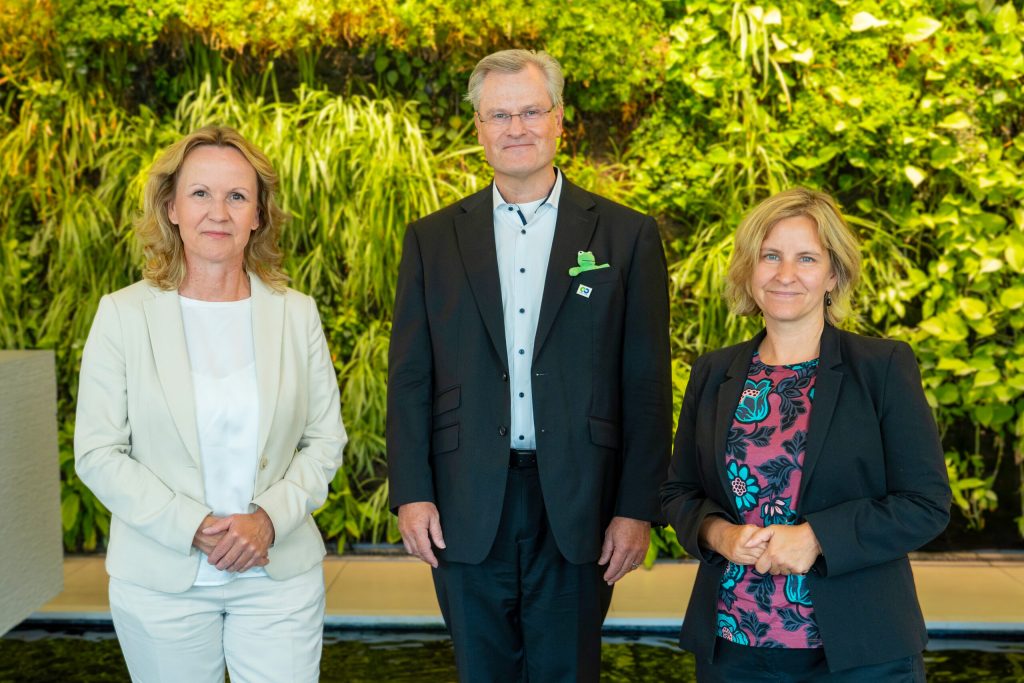 From left: Federal Minister for the Environment Steffi Lemke, Werner & Mertz owner Reinhard Schneider and Rhineland-Palatinate Environment Minister Katrin Eder. Copyright Photo: Werner & Mertz / Mathias Sporn
Working toward a circular economy for plastics
In a discussion with the ministers, Schneider emphasized how important it is to continue advocating and advancing high-quality mechanical recycling of plastic packaging. Plans that attempt to equate chemical recycling with mechanical recycling pose a danger for packaging recyclers. For one thing, the low price of virgin plastic prevents a true transformation in the market. "For a level playing field, the use of climate-damaging new plastic has to be taxed. That can happen by converting the EU recycling fee into a tax on new goods and by cancelling the subsidy for the manufacturing of virgin plastic," said Schneider. Then the use of recycled plastic would pay off and lead to greater investment in high-quality mechanical recycling.
Expand the circular economy to protect the environment and climate
"Strengthening the circular economy is indispensable for environmental and climate protection reasons. Progress can be made by developing the fee charged for non-recycled packaging waste and paid to Brussels in such a way that it encourages manufacturers to come up with reusable packaging solutions, produce recyclable packaging and use plastic recyclate for the production of new packaging," said Rhineland-Palatinate Minister Eder. "Werner & Mertz is a pioneer in this field. That's why we talked with the company about ways to make the plastic tax sustainable."
The ministers could get an idea of the family-owned company's integrally sustainable way of working on a tour of the modern Production Center and the in-house packaging production of partner ALPLA on the Werner & Mertz premises.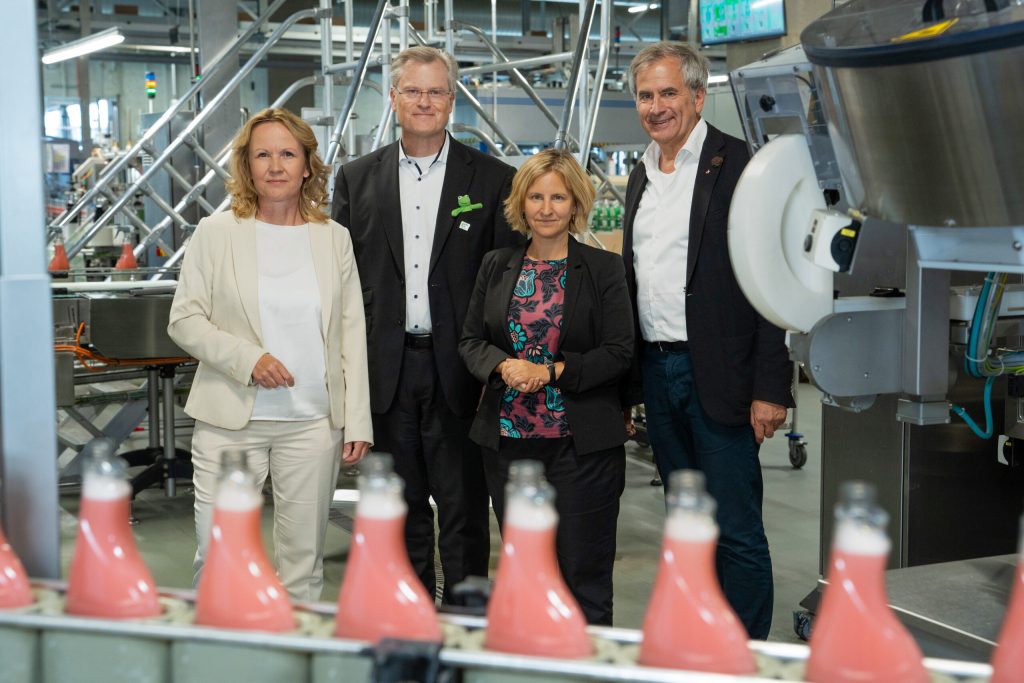 From left: Federal Minister Steffi Lemke, Werner & Mertz owner Reinhard Schneider, State Minister Katrin Eder, and Timothy Glaz, Head of Corporate Affairs at Werner & Mertz. Copyright Photo: Werner & Mertz / Mathias Sporn